Video Courtesy of Northwoods Angling
Alligator gar are the largest species of gar in the world.  They are also among some of the largest freshwater fish in North America. So why not make the 3000-mile round trip down to the Trinity River in Texas to hunt these magnificent creatures? This is exactly what Luke, Chuck and I did on September 26th, 2014. Our dates were set, our trip was planned, and our bags were packed. From Minnesota we set our track to Southeastern Texas, the site of the beautiful Trinity River and home of the amazing alligator gar.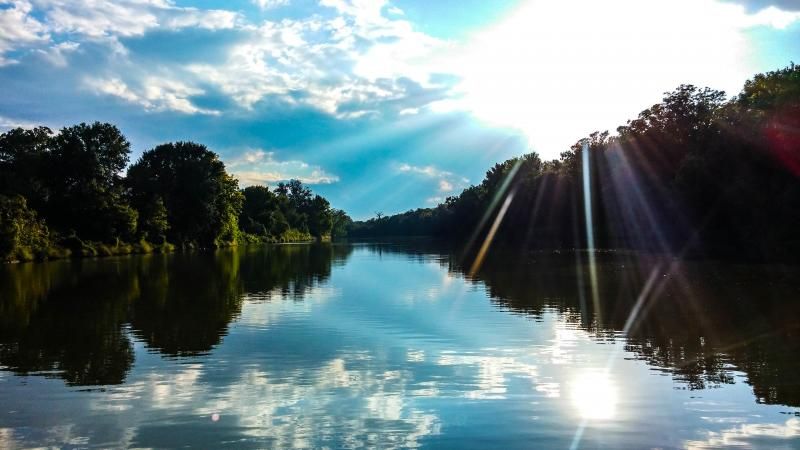 While planning a trip of this extent it is vital to get in contact with some of the locals to gather some much needed information like bait selection, areas to fish, stuff to watch out for (on and off the water), gear to use, et cetera. We were hooked up with guide Captain Kirk Kirkland based out of Trinity, Texas. Unfortunately, we were unable to fish with him until our last day of the 11-day voyage. Knowing this was our dilemma; we started asking questions months in advance and gathered useful information that would be beneficial to making a successful fishing trip. Kirk played a key factor in making us feel comfortable enough in making this long journey.
Now a little about the alligator gar themselves. Alligator gar have gills, but unlike other fish, they also have a highly vascularized swim bladder lung that supplements gill respiration. The bladder not only provides buoyancy, but also enables them to breathe in air. This is why they are able to inhabit bodies of water in which most other fish would die of suffocation. The swim bladder is connected to their foregut by a small pneumatic duct which allows them to breathe or gulp air when they break the surface. ("Biology of Fishes-Fish/Biol 311," 2014). This became quite apparent on our first trip down the river. Splashing and rolling everywhere, the alligator gar was surfacing on every part of the river. We had seen pictures, watched TV shows, and talked to some of the locals, but nothing prepared us for what was about to happen next.
We rigged up our "gar rods" (7 to 8-foot medium heavy rods, spinning reels spooled with 150-pound braided line, 3' steel leaders attached to a 3/0 treble hook and a slip float — more on this later — and parked at the first pool we reached which was located on a sharp 90-degree bend in the river. Now, "pools" was a new word to us, we most commonly referred to pools as "holes." A pool consisted of a sand bar usually in front or behind a large drop in the river, located most of the time on a turn of the river. Our first pool was 25-feet deep with a 15-foot sandbar on the top side. We set up on the top side of the pool and fished the gradual decline of the river bottom leading to the deepest part of the pool.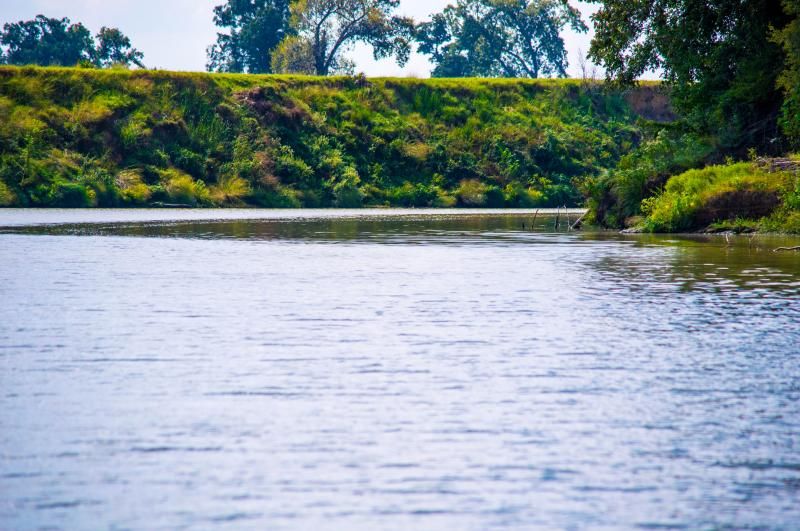 Bait and bobber placement is a key factor when fishing for alligator gar. You want to make sure to have enough space between the bobbers to leave ample time to pull all other rods during a bite. These fish are much different when compared to most other fish in regards to their feeding habits. A gar will bite the bait repeatedly to make sure its meal is completely dead before taking off downstream; they tend to not want to eat by other gar. With this in mind, you will see an initial key hit to your bobber before it starts heading off downstream. This starts the waiting game.  The motor on the boat is started and the chase begins. The theory is that the gar has killed its prey and is now going to look for a relaxed spot to enjoy its meal. This is something I have never experienced before and was more exhilarating than any other type of fishing I have done. Chasing a bobber that you know could potentially have a 200 to 300-pound fish at the end of it and having to wait for so long before even feeling the fish gets the heart pumping.
Imagine the scenery:  A 90-degree bend in the river, fishing the topside of a pool with three bobbers placed strategically from one bank to another baited with slabs of 3-pound carp, then it happens. Our first day fishing for alligator gar and our bobber starts racing down river. Scramble is the best word that comes to mind. Pull the anchors, clear rods, start the motor, and on the chase we went following the bobber downstream. We chased this bobber for 15 minutes until it came to a complete stop in the middle of the river, bobbing back and forth. At this point the gar feels comfortable enough to inhale the bait and enjoy its meal. Fish on! It's an intense battle between man and monster, run after run, until this alligator-like fish turns itself topside.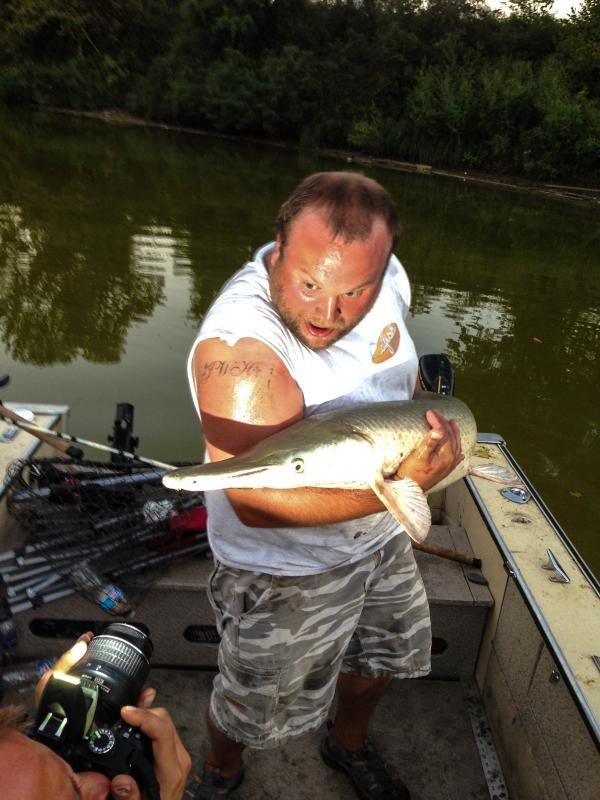 An alligator gar is not a netable fish. With this in mind, a noose is made and fed up the backside of the rod all the way down the line and over the head and mouth of the gar. The scales of an alligator gar are not like the scales of other fish; their bodies are protected by overlapping, enamel-like ganoid scales that are diamond-shaped with jagged edges and composed of a hard inner layer of bone and an outer layer of ganoin that is nearly impenetrable. The noose is secured behind the gar's armor plated gills and pulled over the side of the boat onto the floor, having in mind that this is only completed on the smaller specimens. The next step in the process is what we have labeled as "perching". Perching is pulling the gar over the side of the boat and finding the tallest part of the boat to perch yourself up on as the gar thrashes with anger. Although gar are a docile fish, they tend to not be too happy when initially hitting the boat floor. Once their initial thrash is complete, it is safe to handle the fish for pictures before releasing.
Exhausted from our 18-hour drive and the excitement of our first fish, we decide to pack it in early and get some good rest for the days to come. Knowing we were quickly running out of bait, we got back in contact with our guide, who quickly told us bait was hard to come by and we would have to travel another one and a half hours south to find our needed bait.
Morning came; we packed the boat and traveled 100 miles south to the head of a huge dam connecting the Trinity River and a massive reservoir. This reservoir is located in the East Texas Piney Woods and has a surface area of over 83,000 acres. This is where a true river monster would show itself to us and we would gain a whole new respect for this fish.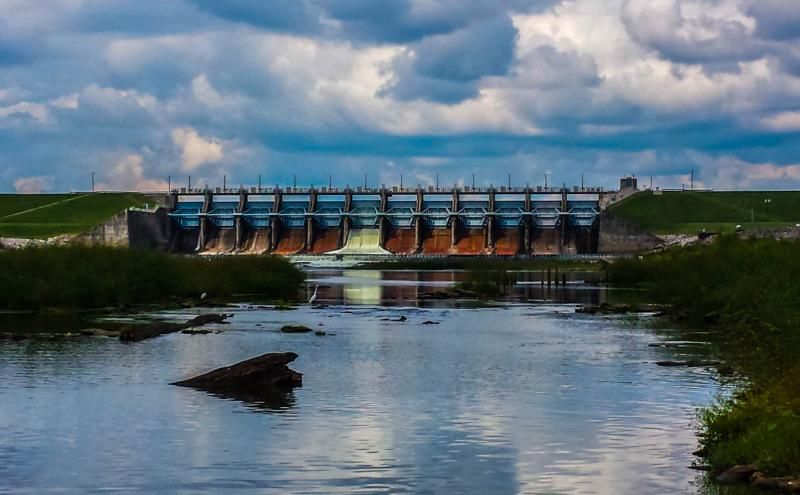 The launch at the dam was rather steep and dropped the boat into about a foot of water. In order to reach the pools located at the dam you have to navigate between rock bars, sand bars, and treacherous trees under water all while driving in a foot of water. Eventually we were able to reach the pool located on the right side of the dam flowage. This pool was much different from what we had experienced up north, only reaching depths of 8 to 10 feet  and being very small overall in size, this is where we would get our bait. Having some local knowledge that gar also inhabit this area, our fishing partner Chuck decided that while we were fishing for bait he would toss out a gar rig and hope for the best. Soon we found out how annoying blue crabs can be while fishing for gar, stealing bait, pulling bobbers under, just an overall nuisance when trying to target these fish. Chuck stuck with it while Luke and I targeted buffalo and carp for bait. This is when it happened, the bait feeder on Chucks spinning reel started singing with a solid tone, making us understand that there is no way this could be a blue crab. Bait rods were quickly reeled in, hatches were battened down, and the chase was on.
Another 15 to 20-minute wait ensued before setting the hook. Regardless of who was holding the rod at this point (Chuck), I will tell you that it takes a team to wrangle in a fish the size that we had on this day. After multiple runs and getting a glimpse at this beast, we decided it would be best to head to shore to deal with this monster. After the initial shock of the sheer size of this alligator gar, we were able to snap some pictures and make a beautiful release back into the warm depths of the pool.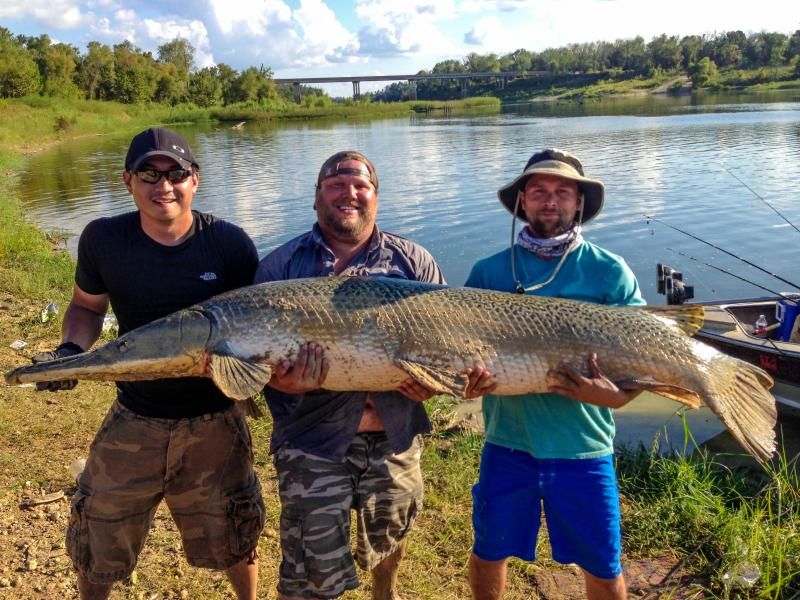 This monster taped in at 90×40 inches, which is 7 ½ feet long and over 200 pounds of pure armor plate. Wouldn't ya know we left all the video gear and expensive cameras in the truck; this seems to be when you always catch a fish of a lifetime. Mature alligator gar commonly measure 6 feet in length, and weigh over 100 pounds. Although some gar, when fully mature, can reach lengths of over 9 feet and weights of over 350 pounds. This fish was the true river monster we came down to Texas to catch and we happened to get it on our second day of the trip, just unreal. Luckily, a group of fisherman on the shore were gracious enough to snap a picture for us.  I think they were as much in awe as we were. It took all of us to hoist this beast into the air for the quick photo op. Thanks again, guys.  The photo turned out great!
Now, the story does not stop here, we still had multiple days to fish and we were starting to feel confidence in the methods we were using to target these fish. Now the big problem with catching this fish in the spot we did, it made us not want to leave. We spent the next three days in the boat at the dam. The first night after the big fish was a huge patience tester for me. Since Luke and Chuck both had fish in the boat, it was finally my turn to take a crack at all of the rods. This night I was put to the test, run after run, 20 minutes apart, and I just couldn't get one of these dang fish to hook up.  The fourth run of the night proved different, bobber down, motor on, chase ensued. He ran from the right side of the dam all the way over to the left side where he stopped. Five more minutes and I cross the eyes with my rod, BAM, FISH ON! I know this fish is bigger than the first fish we pulled in and definitely not as big as the last one we pulled in, ten minutes pass and we finally get a glimpse of the fish. This fish had to be over 100 pounds and was a great first fish for me.  The lasso was made and that's when it happened.  The fish made one big run under the boat and completely breaks the hook in half as he swims away laughing at me. Both Luke and Chuck did not talk the next ten minutes or so while I put on my adult temper tantrum. We sat in disbelief floating down from the dam towards the access, talks of calling it a night were had and we decided that the bite was just too good to leave the water at this point. Motor over, re-anchor, tie new hooks, re-bait, and back to fishing.
Luke and Chuck get their lines out first as I still needed to retie my recently broken hook. Finally I'm ready and get my rig back in the water, bobber lays flat, and the wait resumes. Not five minutes later my bobber is racing off across the middle of the river to the other bank. This is my fifth bite of the night within the last two hours, I am feeling bad at this point that I am taking every rod, but I still need to get one in the boat.  Motor is turned on as we slowly track the bobber across the river and downstream until it stops.  Now, once again, this is when the fish is inhaling the bait. We wait until he is ready to make another run, he runs, the hook is set, FISH ON! Knees shaking, palms sweating, we fight and we fight and we fight.  This fish has some serious weight behind it as he pulls us downstream, crashing into the rock bar below the dam. About 25 minutes into the fight we get a glimpse, another true monster thrashes boat side as we are getting pulled farther and farther away from the dam. The noose is made and this fish has no intention of letting us get close to it. Attempt after attempt to get a noose around him, but he just turns and thrashes away. After 45 minutes we have been pulled over a half mile downstream and are now directly across from the access when Luke is able to secure the noose.  Motor is turned back on once again and we slowly drag this beast to land. The third fish of the trip tapes in a 78", six and a half feet long, making it roughly a 140, 150-pound fish. Exhausted, we take some quick photos, high-fives all around, and are able to release this fish unharmed from the ramp to be caught again.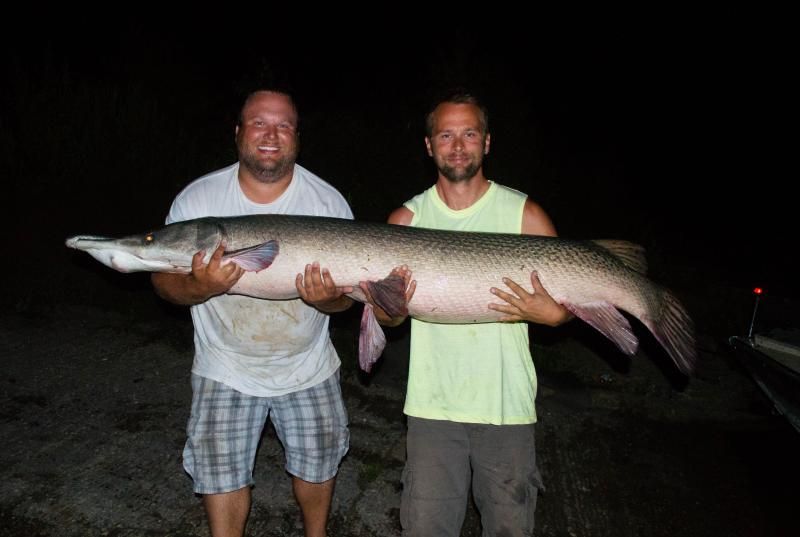 After we were able to wrangle in this beast, the rest of the trip was pretty much a bonus for all of us.  All three guys now have a respectable fish in the boat, bucket list fish are crossed off our lists, and two of them are true river monsters. The next four days are spent replicating the last four days and we are able to wrangle in another six alligator gar, but nothing compared to the size of the two monsters from the days earlier.
Making the 3000 mile journey to fish the largest species of gar in the world was truly exhilarating. It goes without saying that this needs to be on every fisherman's bucket list. Luke, Chuck, and I were lucky enough to not only be able to fish for these magnificent fish, but also all be able to say we caught one of our bucket list fish in true river monster fashion! Trinity River, you will see us again soon…
Captain Jake